When you have finally decided it's time to see more of the world, you may be wondering  "Where to now?"
You may have imagined going to a number of tourist spots before, but the challenge now is,  how will you narrow down your choices to one or two destinations? To help you, let's take a look at these ten fantastic destinations and why they stand out for first-time travellers.
These countries drew raves from first-time travellers that enjoyed the tours, so much so that they felt reluctant to leave. That's understandable because these destinations have amenities that tourists need.
Now, without further ado, let's jump right in – international travel:
1.] Iceland
Iceland is hip and is an excellent travel destination. Talk of Mother Nature's splendour and she has it all.
Incredible landscapes, the cold sand beaches, hot springs, glacial lagoons, steaming volcanoes and the never-ending waterfalls, all for you explore. Moreover, if you visit Iceland from mid-March to late September, you'll see the northern lights.
All these and much more make Iceland a whole new world and the ideal place for first-time flyers.
Not to mention, Iceland is not so far from home; it is merely four hours of air travel from Boston. And with incredibly cheap airfares that could go as low as $99 for one way, you want to make a book a flight tomorrow. On top of that, almost every Icelander speaks English, safety guarantee, and a vibrant tourism infrastructure to accommodate and entertain foreign tourists.

For those who can't stay away from wheels, you can navigate all roads in Iceland with ease. But if you like, you can have a more relaxed tour by booking day tour drivers.
The land is for you to explore but the famous Blue Lagoon is a must-go! You'll come back and thank me after a soak in its waters. You'll recall it for life.
2.] Japan
Rich in culture with a full stretch of peaceful lands, shrines, and temples!  
If you want to explore Asia but worried about cultural differences, make Japan your first stop. Japanese are warm and sociable which makes up for any communication barriers.
Compared to her neighbours, Japan is much more accessible. Although English is not widely spoken in Tokyo which is the leading tourist destination hosts many English speakers.
And for easy navigation, all roads, subways and train stations have signs labelled in both Japanese and English.
Tour Japan and witness the eccentric pop culture, towering skyscrapers, fast bullet trains and their jaw-dropping ultramodern architecture.
3.] The United Kingdom
Westminster Abbey, Tower of London, St. Albans and the great Windsor. Aren't these reasons enough to make anybody want to set foot in the U.K?
Everyone would pick the United Kingdom as their number one choice for a first time overseas flight. One; because nearly one and all speak English and what's more, you don't expect a large difference in the way of life.
However, this doesn't mean the U.K is predictable. In fact, consider visiting and you'll notice an entirely different country. Its diversity will allow you spend much time in the main cities like London and have fun on the beaches along the beautiful Cornwall coast.
4.] Ireland
Ireland, a home to the most welcoming folks on earth, should be on your list of holiday destinations.  
Don't leave without visiting Inisheer (the tiniest of the Aran Islands with just 250 people) to have a subtle taste of real hospitality.
The friendly nature of the locals makes Ireland one of the world's safest places and nature's provision kills it even further. Starting from the verdant emerald hills and the incredible Aran Islands to the awe-inspiring coastlines, and then, the ancient culture evidenced by the antique castles!
The kindness in Ireland is too much it may spoil you. Navigating major cities like Cork, Galway, and Dublin is a relatively easy task as the Irish always have advice to offer and a helping hand to give.
5.] South America
Who has never heard of the fine-looking beaches in Brazil, the magnificent Galapagos Islands, the ever-feral Amazon and Angel Falls in Venezuela, the highest waterfall in the world?
With all these fantastic sites, South America is indeed a continent to explore! Also, think of the mouth-watering delicacies, the bloodcurdling jungles, the unique music, the dance and the home-grown culture that you can enjoy all in one destination.
Rio de Jaineiro is an all-season fun spot, and Brazil will surprise you with a bevvy of beauties walking the streets and the dramatic samba music. If you wish to go crazy, Brazil is ideal— with all the wild parties and energy; you could join in the dance after a slightly scary day in the wild jungles.
6.] Vietnam
Ever dreamt of a long trek followed by a hike in the Central Highland Mountains? Or how it feels like to train tai chi with hundreds of other tourists at the shores of the great Hoan Kiem Lake?
Vietnam is another excellent destination in Asia.
The life in the streets of Vietnam is colourful and out harm's way. It's safe, even in main cities like Hanoi, where every corner will surprise you with discovery. If you visit, ensure you enjoy the beautiful scenery from a rooftop bar while sipping a chilled beer or a cup of traditional Vietnamese coffee.
Active shoppers won't leave without a stopover at Hanoi's largest indoor market, the Dong Xuan Market. It's quite large and airs a broad range of goods at wholesale prices.
For those who prefer to have a good time relaxing, the flawless coastline of Phu Quoc Island should be your first stop.
7.] Thailand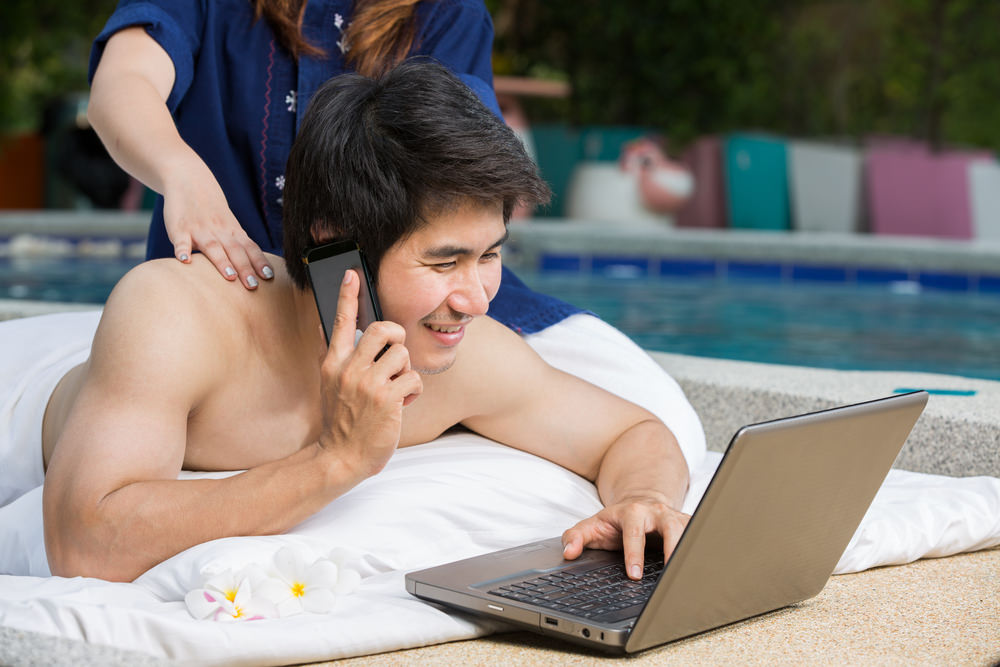 Thailand, at one time rated among the happiest countries in the world, is famous for its hospitality. This makes a comfort zone for the first timer.
Touring Thailand is rather inexpensive, so there's no need to worry about a huge budget either.
Bangkok is a party-central. But for nature lovers, the country has a number of beautiful beaches. Those who find tranquillity in watching the beautiful works of nature will find the tropical jungle fascinating.
Bangkok comes to life after the sun goes down, but you can't leave without visiting the ancient monasteries and Buddhist temples. Lastly, don't forget to head northwards to the Chiang Mai, or if you wish southwards to the fascinating islands.
8.] The Philippines
In case you didn't know, 7,000 small islands make up the Philippines.
She is still Asia's most exotic and unseen getaway— talk of the beautiful beaches, fiery volcanoes, and the attention-grabbing rice terraces.
But to have a memorable vacation in the Philippines, tour Boracay to steal a glance at the White Beach. Or, explore Cebu, especially the manic metropolis and visit the Puerto Princesa Subterranean River— Asia's longest underground river
With its pristine beaches, scenic mountains, warm and happy people and good food, the Philippines have something to offer for every adventure seeker.
9.] Netherlands
One reason Netherlands is a must-go is the thrilling art capital of Maastricht.
The Dutch are most friendly folks in Europe. What's more, over 90 percent are English speakers.
Manoeuvring the ever-busy streets of Amsterdam is easy. Besides, you'll get to observe the quaint canals, vibrant houses, and maybe pop into a coffee shop later. But these are only a few of the things that make Netherlands a perfect destination.
And of course, it's a home for several top-rated museums e.g. the Rijksmuseum, which stores an impressive 800 years of Dutch history.
No need to worry about your safety when you're in Amsterdam whether on foot, riding a bike or driving anywhere in the big city. Plus, you can easily navigate to other huge cities in Netherlands e.g. the Utrecht, and Hague.
10. ]New Zealand
Think of the picturesque landscapes shown in the hit movie Lord of the Rings. These were shot in New Zealand. It boasts of the most eye-catching and diverse landscapes the world has ever seen with flourishing rainforests, hot springs and glaciers.
New Zealand is an English-speaking nation that's very safe and laid back, just like most first time flyers would love it.
If you have a thing for extreme sports, then New Zealand is the right stop for you— sky diving, zorbing, white water rafting, bungee jumping and jet boating are all available.
For tourists who like making new friends, Kiskydivingown for generosity and a positive attitude towards life.
Wrap Up
To have a fascinating and less stressful first-time experience, choose a tourist spot that poses few challenges in terms of communication, accessibility, security and budget without compromising on the aspect of fun.
To this end, you need to do research on the country that caught your fancy. Have a mind picture of what to expect before you book a flight and plan your itinerary.
Lastly, since most tourists forget this, be on the lookout for data roaming charges. To enjoy a wonderful internet experience with zero roaming charges, as well as affordable call and messaging rates, buy One SIM Card. So far they are the best international SIM card providers covering over 200 countries.